Lamb Freezer Packs
You can now make savings in time and money (not to mention the added convenience) on the way you buy your lamb from us by ordering one of our lamb packs.  These are available as quarter, half or whole lamb.  We are willing to tailor your pack to suit your family's requirements within the constraints of pack size.
We have listed below the typical contents of each pack to give you an idea of what you might receive.
To place an order for a pack please phone or email us using the details above.
Quarter Lamb Pack – Approx £45-£50*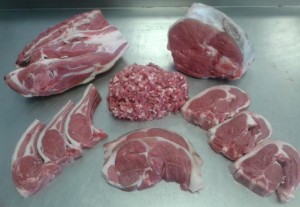 1 x 1/2 shoulder roast
3 cutlets
3 loin chops
1 x 1/2 leg roast on the bone
500g lamb mince
2 chump steaks
Half Lamb Pack – Approx £85-£90*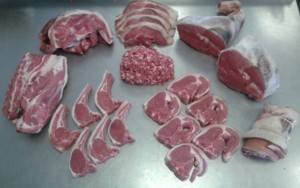 2 x 1/2 shoulder roasts
6 cutlets
6 loin chops
1 whole leg roast
4 chump steaks
2 x 500g lamb mince
 Whole Lamb Pack – Approx £170-£180*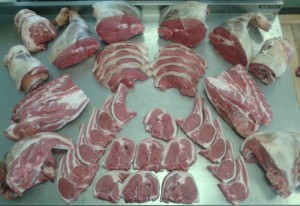 1 shoulder roast
2 x 1/2 shoulder roasts
8 chump steaks
1 lamb rack
6 cutlets
14 loin chops
1 whole leg roast
2 x 1/2 leg roasts
1 x 400g diced lamb
4 x 500g lamb mince
2 x neck fillet
1 scrag end
*Prices are based on £9 per kilo