Our Beef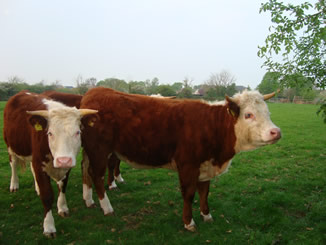 The beef available from the Rosegate Farm butchery comes primarily from our own herd. As demand for quality local beef has been so high we occasionally buy in beef animals from 2 other farms we work closely with whilst building up our own herd as quickly as we can. Our aim is that before long all the beef we sell will have been born and reared on the farm, but building up a high quality herd capable of meeting demand takes time! The beef is all either Hereford, Aberdeen Angus or a Hereford/Angus cross, both breeds are known for their fantastic quality beef.
Our beef cattle spend the summer months grazing traditional pastures in and around the village, coming into barns on the farm through the worst of the winter weather and eating our own hay, silage and straw.
We transport them ourselves to the abattoir, giving the animal the best treatment we can to minimise stress. The beef is then hung for at least 21 days in our butchery on the farm before it becomes available directly to you for the perfect weekend roast!