Our Fruit
Our delicious strawberries and raspberries are all grown here on the farm, picked daily to ensure they are fresh and ready to eat. Usually the strawberry season extends from the middle of May through until October. Freshly picked strawberries are available from the farm throughout this period and we are open for "Pick Your Own" on Saturdays throughout June. Please check the latest news section of the website for more details of 'PYO' dates.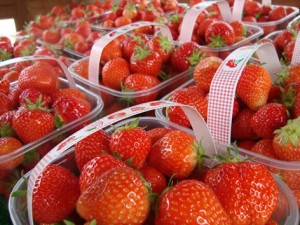 Freshly picked raspberries usually become available in early June and are here through until September.
Larger quantities of both strawberries and raspberries are usually available for functions/jam/freezing although we highly recommend giving us at least a weeks notice so we can be sure we can cater for your exact order.
Plums are also usually available during August.