Our Pork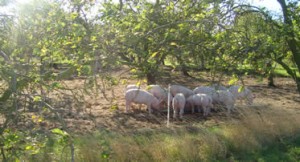 All our pork, sausages, bacon and gammon come from traditional breed pigs raised here at Rosegate Farm.  Always check the "latest" section of our website to find out when the next batch will be available!
We currently have a mix of Hampshire, Large White and Oxford Sandy and Black pigs, chosen for their flavour and quality lean meat.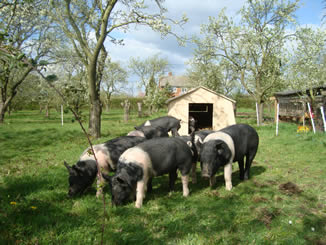 Our pigs enjoy the most natural life we can give them, spending the summer rooting around the orchards, especially enjoying windfall plums and apples. They then move inside to spacious, straw bedded pens for the winter for protection from the coldest weather.
We transport the pigs ourselves to a small local abattoir, before collecting the meat ready for it to be butchered, cured or turned into sausages here at the farm!