Christmas meat
Fresh pork, sausages, chipolatas and lamb

will be available from the farm on

1st, 2nd and 3rd December

. This will be the final batch of fresh pork and lamb this year so the last chance to stock up before Christmas!

Fresh beef

will be available Wednesday and Thursday of Christmas week (

21st and 22nd December

).

Christmas gammons and bacon

will be ready for collection Tuesday – Friday of Christmas week (

20th – 23rd December

).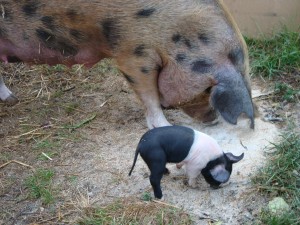 As always, please e-mail us orders as early as possible to avoid disappointment, particularly for Christmas gammons and bacon, although all of our meat is selling out very quickly.
Looking ahead to January 2012, we hope to have fresh beef, pork and lamb available from around the middle of the month, more updates to follow.
We'd like to say a big thank you to all of our customers for your enthusiam and loyalty through 2011, and hope you all have a very happy (and tasty!) Christmas and New Year!